Return to Headlines
Inclusion Teacher of the Year
School District officials announced 1 of 14 teachers as the Inclusion Teacher of the Year. The Inclusion Teacher of the Year (ITOY) focuses on how the teacher has intentionally devoted his or her efforts to ensuring that every student feels included within the classroom setting. The process included a letter of recommendation for a teacher from each of the public schools from the principal, and required the teachers to answer questions about their greatest accomplishments in working with students in need of exceptional education.
The following teachers were nominated:  
Jan Mulvihill | Key Largo School (Elementary)
Laura Barker | Plantation Key School (Elementary)
Saudhi Wise | Plantation Key School (Middle)
Mike Hughes | Coral Shores High School
Mary Coleman | Marathon Middle School
Jeff Cox | Marathon High School
Angela White | Stanley Switlik School
Michelle Ryan | Sugarloaf School (Elementary)
Victoria Fairbrother-Smith | Sugarloaf School (Middle)
Kaitlin O'Connell | Gerald Adams Elementary School
Lynly Hill | Poinciana Elementary School
Sam Hall | Horace O'Bryant (Middle)
Ricky Ridenour | Key West High School
Elaine Nosser | Key West Collegiate Academy
Officials surprised one of the nominees on Friday, April 7
th
, 2017. The ITOY for the 2016-2017 school year is Michelle Ryan, a first grade teacher at Sugarloaf Elementary School. Ryan and the nominees will receive stipends for their work for the District as Inclusion Teachers. The Monroe County School District serves approximately 8,800 students throughout the upper, middle, lower keys, and Key West. The accredited school district consists of ten public schools, six charter schools, and alternative and virtual schools. For more information about the District and its mission, visit
www.keysschools.com
.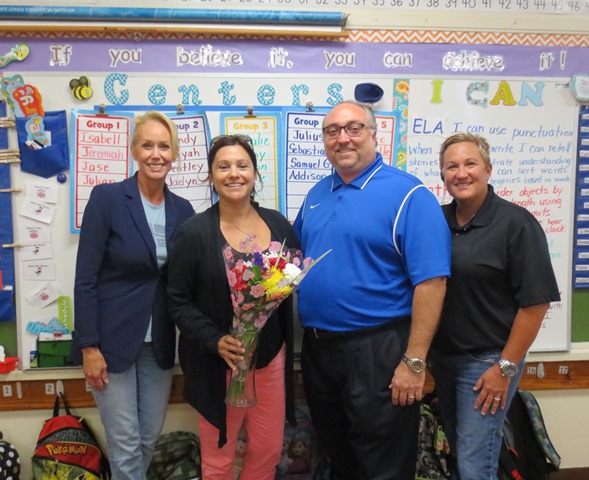 Pictured, left to right: Dr. Lesley Thompson, Director of Student Services, Michelle Ryan, Inclusion Teacher of the Year; Harry Russell, Principal; Kelley Lanier, Assistant Principal 
---