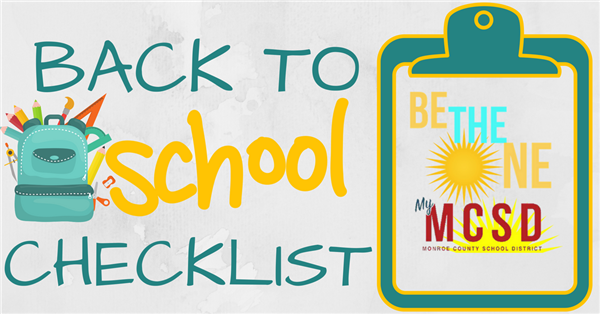 Here is a checklist of suggested items to look into for your student before classes begin August 15th.

Gather your child's school supplies. School websites have shared supply lists. The school tax free holiday is August 3rd - August 5th.
Classes begin August 15th. Check the school site for dates you can meet the teacher.
Make sure your child has their immunization records current. This mainly applies to students entering kindergarten and students transferring to Monroe County School District will need updated immunization records. Keys AHEC Health Centers offers free physicals and other medical services to students and their families.
Determine your student's eligibility and status for free and reduced meals. The applications open on August 10th.
Register for FOCUS Parent Portal, if you have not already. You can access your students grades and other class-related information via the portal.
Download the MCSD Mobile Application to access push notificaions, announcements, school social media sites, and FOCUS Parent Portal.
Gather your student's school supplies. The Tax Free Holiday is August 3rd through the 5th.